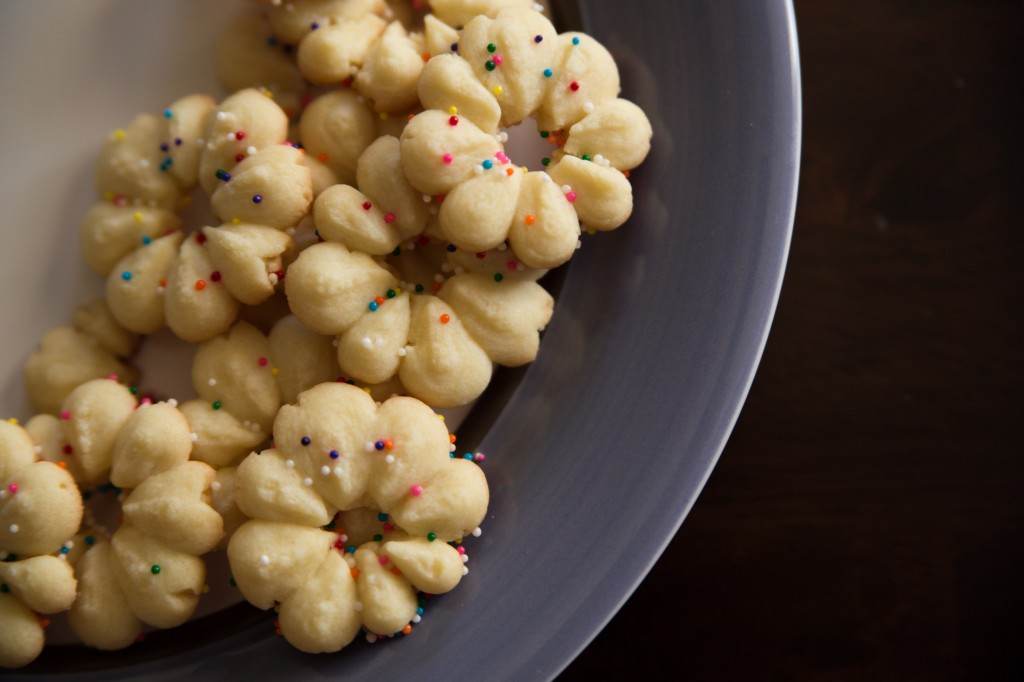 When I was still living at home with my parents, I convinced my mom to buy a cookie press. We really had no idea what we were doing with it or how many cookies it would produce, but it was experimenting and making a complete mess of the kitchen. Today, that cookie press has gone to cookie press heaven. The last batch of spritz cookies that I was pressing out, was just too much pressure on it and the top part snapped. I guess I'll have to buy a new one for next Christmas.
Ingredients
recipe from Cook's Illustrated
makes about 6 dozen
1 large egg yolk
1 tablespoon heavy cream
1 teaspoon vanilla extract
16 tablespoons (2 sticks) butter, softened
2/3 cup sugar
1/4 teaspoon salt
2 cups all-purpose flour
Directions
Adjust oven rack to middle position and heat oven to 375F.
Whisk egg yolk, cream and vanilla together in a small bowl. Using stand mixer fitted with paddle, beat butter, sugar and salt on medium-high speed until light and fluffy, 3-6 minutes. Beat in yolk mixture until combined, about 30 seconds, scraping bowl as needed. Reduce speed to low and slowly mix in flour until combined, about another 30 seconds.
If using cookie press, follow manufacturer's instructions to fill press. If using pastry bag, fit with 1/2 inch star tip and fill bag with half of the dough. Pipe cookies onto baking sheets, spacing them about 1 1/2 inches apart and refilling cookie press or pastry bag as needed. (Piped cookies should measure about 1 inch in diameter)
Bake cookies until light golden brown, about 10-12 minutes. Let cookies cool on sheet for about 10 minutes and then transfer to wire rack to cool completely.