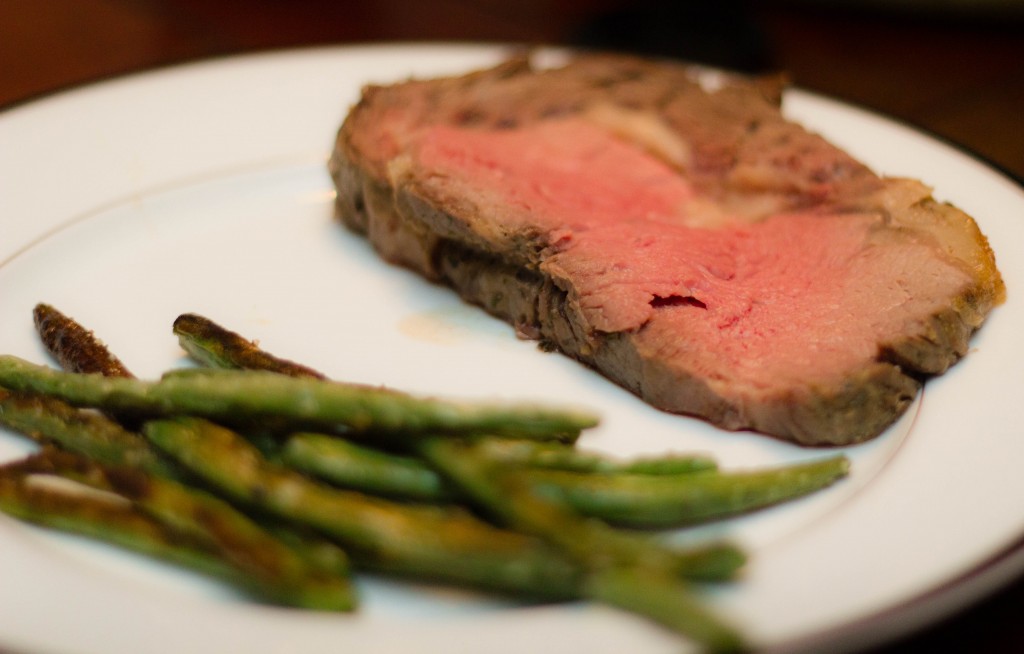 When Stephen and I were still newlyweds, I was asked by my mother-in-law to make a standing rib roast for Christmas Eve dinner. At the time I was still working, and I would be working on Christmas Eve. I had also never made a rib roast before so I declined. I didn't want to take on such a challenge for an important holiday meal.
Then, my birthday came about two months ago, and my mom bought me a roasting pan. I knew that the first meal I made with it should be something special. In my mind I thought I would make a turkey breast, but when I went to see the butcher, he had another idea. Once again I was brought face-to-face with the thought of cooking a prime rib. But this time there was no pressure. I didn't have to worry about ruining a holiday feast. Besides, I had seen my mom cook this roast lots of Christmas' before. How hard could it be?
As it turns out, prime rib really isn't that hard to cook. The hardest part is making sure you get the meat thermometer in it correctly. Then all you have to do is put the roast in the oven and wait for it to reach the desired temperature. As a side note, I should mention that when it is time to take your beautiful roast out of the oven, you should be mindful of your surroundings. Otherwise you will be like me and dump red wine all over the floor. And yes, it even splashed up onto my ceiling (which I later had to have repainted because it would never come off). Moral of the story: don't leave your red wine in the path of your roast! Thankfully I still had plenty to make my au jus and plenty to drink.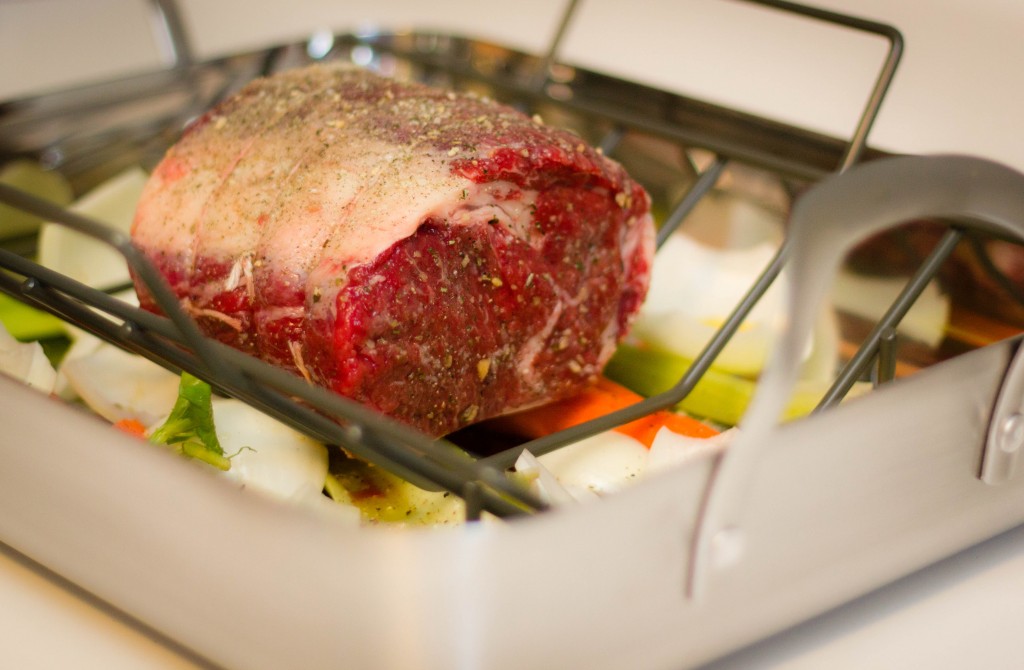 Prime Rib:
1 2lb boneless rib roast (have your butcher tie up the roast as well to keep it from expanding or contracting unevenly while cooking)
2 large onions (quartered)
4-5 carrots (peeled)
3-4 celery stalks
4 cloves of garlic
Borsari seasoning (you can find this usually at Whole Foods by the butcher)
Olive oil (enough to baste onto the roast and then extra to sprinkle onto your vegetables on the bottom of the roasting pan)
Salt and pepper
Directions:
Take your roast out of the refrigerator at least an hour before you start to cook it. The meat needs to come to room temperature so that it can cook evenly.

Preheat the oven to 450F. 

Place all of your cut vegetables in the bottom of the roasting pan. Season with salt and pepper. Drizzle with olive oil. This will help to develop the flavor of your au jus.
Pat the roast dry and then place it, fat side up, on your roasting rack. Season with Borsari seasoning. Be sure to rub the seasoning into the roast to get the flavors into it. Roast it for 15 minutes at 450F.
Lower heat to 325F. Cook the roast for about 25 minutes per pound or until the meat registers 120F (medium rare) on an instant read meat thermometer. 130F for medium.
Transfer the roast to a cutting board and tent loosely with aluminum foil. Let rest for 20-30 minutes. The juices need time to redistribute and if you cut into it immediately you will have a dry, tasteless piece of meat. It will not get cold. I promise.
Slice the meat about 1/2 inch thick and serve.
Pan drippings

1 cup of red wine
2 cups of beef broth
Salt and pepper to taste
1 tsp thyme
Directions:
Place roasting pan on top of stove across two burners. Turn the burners on high-medium.

Add the wine to the pan and cook over high heat until it has reduced. Be sure to scrape the bottom of the pan with a wooden spoon.
Remove the vegetables from the pan. These can easily be served as a side dish or used later if you wish.
Add the broth and cook until the liquid as reduced by about half. Whisk in thyme and season with salt and pepper, to taste.