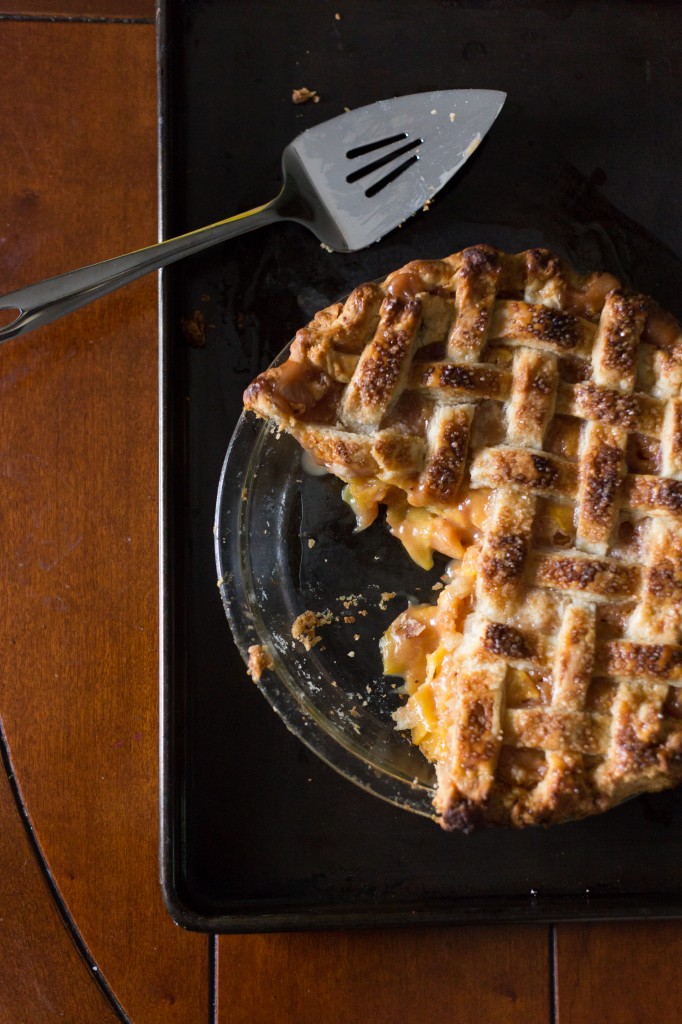 This post is a 2-for-1. I originally planned to publish this recipe almost a year ago but I unfortunately never got around to it. This is probably one of my favorite pies ever; peach. It is the perfect way to say good-bye to summer. I hope you enjoy it.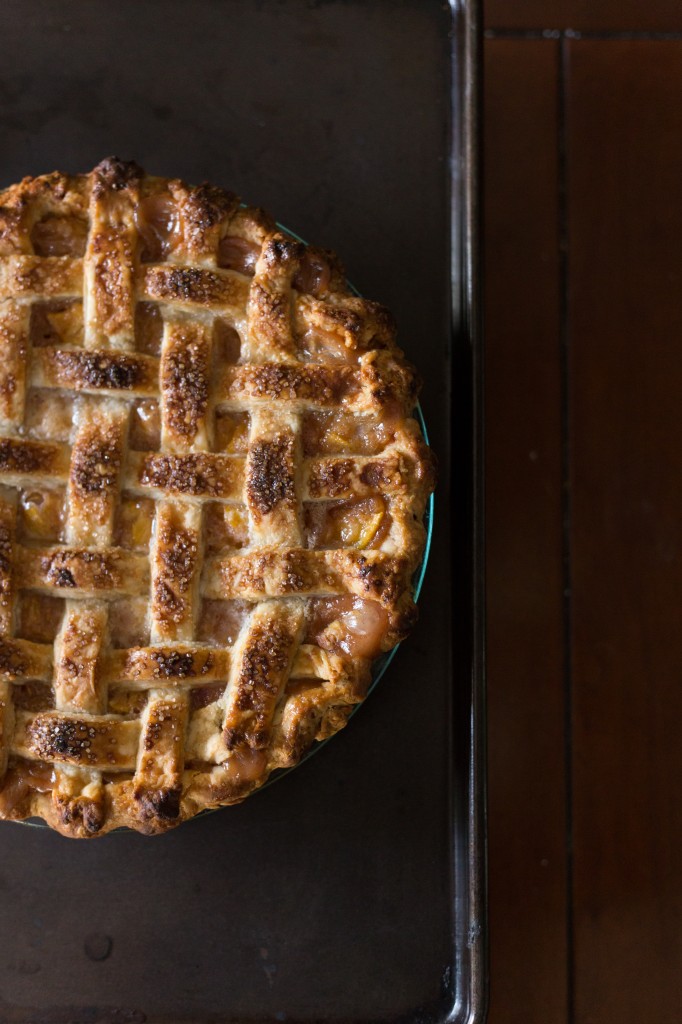 Ingredients:
double recipe of 9in pie crust
6-7 medium, ripe peaches
4 tablespoons flour
1 tablespoon fresh lemon juice
1/2 cup sugar
1/4 heaping cup brown sugar
1/2 teaspoon cinnamon
1/4 teaspoon fresh nutmeg
pinch of salt
turbinado sugar for sprinkling on the crust
Directions:
Preheat oven to 500F. Adjust the oven rack to the lowest position. Follow the directions for rolling out the pie dough and then refrigerate it while you are preparing the rest of the mixture.
Peel, halve and pit each peach. Cut each peeled peach into 1/4-inch slices. Place into a large bowl and toss with the lemon juice. Set aside.
In a small bowl, combine sugars, flour, cinnamon, nutmeg, and salt. Combine the sugar-and-spice mixture with the peach slices.
Turn the peach mixture into the dough-lined pie plate. Remove the other disk of dough from the refrigerator. Roll the dough to a 15 by 11-inch rectangle, about 1/8-inch thick. With a pizza wheel or paring knife, cut the rectangle into 1 1/4-inch wide strips (about 8 of them).
To make the lattice, lay 4 strips of dough on top of the pie filling. Fold the first and third strips back, then place a long strip of dough slightly to the right of the center as shown. Unfold the first and third strips over the perpendicular strip and fold the second and fourth strips back. Add a second perpendicular strip. Now unfold the second and fourth strips. Repeat this process with 2 more perpendicular strips. Trim off the excess lattice ends, fold the rim of the shell up over the lattice strips and flute.
Place the pie on the a baking sheet and lower the oven temperature to 425F. Bake the pie until the top crust is golden, about 25 to 30 minutes. Rotate pie from front to back and reduce the oven temperature to 375F; continue baking until the juices bubble and the crust is a deep golden brown, 25-30 minutes longer.
Transfer the pie to a wire rack; cool to room temperature, at least 4 hours.